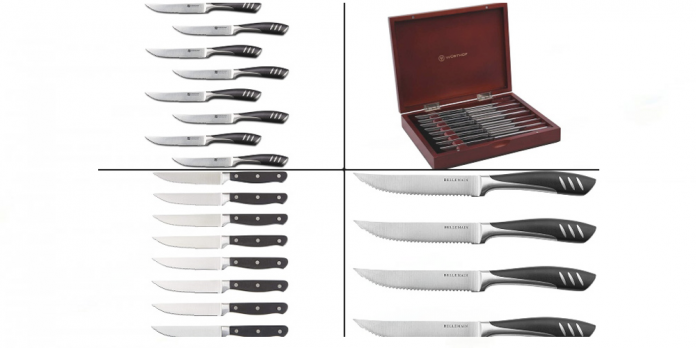 The most fantastic way to leave an impression on your guests is to set up the table perfectly as it proves the amount of effort you've put in. And what are table aesthetics without the perfect cutlery? When making a purchase, your focus should always be on getting an ideal steak knife. It is because spoons and forks only vary in size and appearance. At the same time, a good steak knife implies incredible sharpness, comfortable grip, and other factors included in this steak knife guide.
Many people prefer using a table knife for dinners instead of a steak knife. However, it's almost impossible to cut through a steak and other such food with a regular table knife. To save you from the embarrassment of important events, go through this complete steak knife guide. By the end of the article, you'll know what to look for when buying knife sets and steak knives for stylish dining and entertaining.
Steak Knife Guide — Factors To Look For
Material Of Blade
Generally, knife blades are made from stainless steel. But it's important to know that the quality of this material may differ from brand to brand.
Stainless steel with a high percentage of carbon is an excellent choice for any sort of knife. They're not only lighter in weight but are capable of holding the edge longer comparatively. Not only that, the extra carbon content allows the knife blade to easily get sharpened as well.
Even though a high-graded stainless steel steak knife will be a little heavy on the pockets, it will definitely make up for it. You'll be blessed with an incredible amount of strength and durability. The blade will also be more resistive towards staining or corrosion.
Blade Grinds
The grind of your steak knife matters as it determines the amount of pressure you'll have to provide for easy cutting or slicing. It can be described as how your knife blade is thinned to form a cutting edge. There are about six grinding choices, but steak knives usually come with either a 'hollow' or 'full flat' grind.
The former is more in a 'V' shape which helps in the easy slicing of meat as the whole cross-section is exceptionally sharp. The latter, on the other hand, is less sharp but provides extra strength. It is also easier to sharpen the full flat grind rather than the hollow grind.
Knife Handles
When using a steak knife during dinner, you'd want to focus on the conversation and food rather than how you're eating it. For this reason, you must buy a steak knife with an excellently designed handle. The handles can be made using wood or plastic. However, there are certain designs that you'd have to observe before landing on a final decision.
The two most common handles include a traditional style handle or a Japanese style handle. The traditional style uses a full tang blade and is riveted from three places. This helps in securing the blade inside the handle. It is also ergonomic in design, optimizing your comfort. Japanese style handles, however, are anything but ergonomic. They are perfectly symmetrical and narrower than the traditional style.
A good steak knife is a must-buy product to get the most of your tasty feasts. It will, no doubt, enhance your experience with extra sharpness, unique design, and durability.