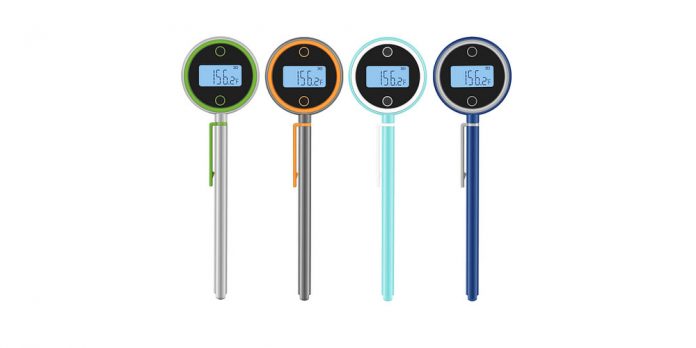 With the advanced world of technology, catering experts have not been left behind. There are several developments in this field from food temperature measurements, grilling and seasoning among other activities in the cooking industry. ChefsTemp, therefore, has been in the forefront to ensure that you can monitor your food temperature to get the best recipe ever using a digital food thermometer. Appropriate temperature means well-cooked food and delicious all together. These temperature measurement products include the following; Final touch X10, ChefsTemp pocket pro, chefsTemp Quad Xpro among other products.
 Let us look at the distinguishing features of each of the following products.
Final Touch X10
This is one of the most outstanding temperature measurement equipment. It has been recognised by chefs across the world due to its unique features that you may also try and have the experience. It has the latest technology specs that make it the most efficient and admirable product as follows.
Very accurate and fast; It uses thermocouple technology which gives temperature readings as long as it is put in the probe. It has an accuracy level of plus or minus 0.7f and 1-3 seconds readout times.
270 Rotational Probe; this allows you to reach every corner of the meat and it is very favourable for left or right-hand users.
Auto rotating display; The Final Touch X10 auto-rotating feature has an inbuilt rotating sensor that senses the side of the device and rotates accordingly. This also enables us to read the temperatures from different angles.
Motion-activated awakening mode; is a great feature that has made temperature measurements easier and reliable. When you pick it will automatically awaken and when you put it down it automatically goes to sleep mode. This saves power and makes it more efficient to work with because you do not have to switch on and off manually.
Waterproof IP67 Rating; this means it can withstand water levels to up to 1meter
Magnetic backing, Some appliances such as these may lack a specific place to put in the kitchen. ChefsTemp has given you a solution to this by improvising the magnetic backing feature into the Final Touch X10 which allows you to back it on any metal in your kitchen.
 Final Touch IR
This is another super product of ChefsTemp Company. It is an advanced product of the final touch series. The following are some distinguishing features you may find relevant to suit your cooking experience,
 Non-contact infrared temperature gun; This improvement is very great. It has improved food hygiene this is because when a thermometer has to get into contact with the cooking meat sometimes it may be contaminated and would cause food poisoning.
The digits are big in the display and can auto-rotate. This is a great feature in that it makes reading easy and efficient.
Other features include, Motion activated to wake up mode. IP66 splash-proof, magnetic backing among other features.
ChefsTemp Pocket Pro
The most unique feature about this product is that 6ou will have a chance to recharge your battery upon depletion. The batteries are made of lithium and there is a Type C plug-in for recharging.
Added to this feature are the other features as discussed in the Final touch series.
ChefsTemp Quad X pro
This Is a mover in the cooking experience brought about by the chefs tempt company. The most outstanding feature here is that it has 4 channels whereby it can monitor four different foods cooking. It displays these temperatures with the dashboard-style whereby it gives the variances of temperatures from high to low. It has a transmission range of 150 meters or 500 Feet's hence the cook is connected to what's cooking from every corner of the house.